Date
Feb 16 - 17 2021
Expired!
Time
6:30 pm - 8:00 pm
RNAO's Black Nurses Task Force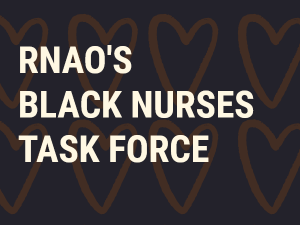 Let's Talk About Anti-Black Racism and Discrimination in Nursing
When: Every third Monday of the month  - Register for each month!
Time: 6:30 - 8 p.m. ET
*Please note, event time is in ET*
Learn more and register here.
Presenters: 
Dr. Bukola Salami, RN, MN, PhD, Associate Professor at the Faculty of Nursing, University of Alberta
Ola Thomas Obewu, 3rd year BScN Student at York University, RNAO Black Nurses Task Force Panelist
Birgit Umaigba, RN, BScN, MEd, CCRN, Clinical Instructor at Centennial College
This is a monthly webinar series designed for members of the public interested in receiving updates on RNAO's Black Nurses Task Force and to engage them in meaningful conversations that will inform the work of the Task Force. The Black Nurses Task Force has a mandate to tackle anti-Black racism and discrimination within the nursing profession.
Although people of all races are entitled to legislated protection under the Canadian Charter of Rights and Freedoms, 1982 and the Canadian Human Rights Act, 1977, Black people are not guaranteed true protection from systemic racism in all sectors (health care, business, politics, etc.), academic institutions (universities, colleges) and organizations. Black nurses are subject to racism in all of the aforementioned sectors, institutions and organizations, as racism continues to be deeply embedded in the health system and structures within Ontario.
On June 3, 2020, RNAO released a statement to address the devastating death of George Floyd and all who have experienced anti-Black racism and violence. RNAO CEO Dr. Doris Grinspun expressed that "we must put a spotlight on injustice, and mobilize to enact real change". Our COVID-19 Together We Can Do It webinar series focused on the topic of Let's Talk about Racism on June 15, 2020, as a group of passionate nurses engaged in meaningful conversations about experiences of and solutions to tackle systemic racism in Ontario and within our health system.